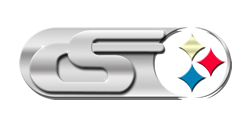 Heavy duty gates built out of all 1 5/8" x 11ga pipe.
All uprights and rails on the pipe gates are coped to get more weld at each joint so they will stand up to the test of time.
Pipe gates come standard with a 1/4" chain (30" length) and a chain latch.
Pipe gates will come with either wood hinges (bottom welded on only) or weld on plate hinges.
Uprights are divided throughout the pipe gate to make certain that there is less than 4' between the uprights and ends.
Pipe gates are available in any length up to 24'.
Pipe gates come in 5 bar, 6 bar, and 7 bar so that they will match up with any of our continuous fence panels.
5 bar gates are available in 49" tall or 40" tall.
6 bar gates are available in 49" tall.
7 bar gates are available in 60" tall.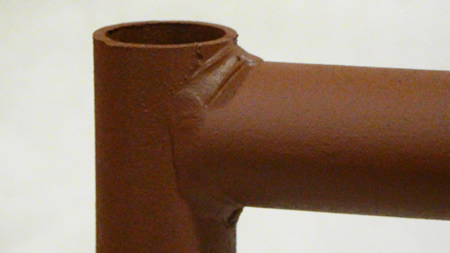 Top and bottom photos show that the pipe gate rails are coped to the ends and the uprights are put in the same way to ensure the strongest pipe gate available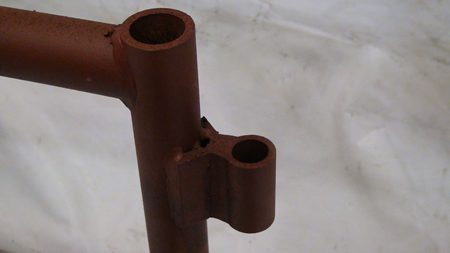 Wood style hinge that fits 3/4" rod hinge pin
Bottom hinge welded onto every pipe gate
top hinge is sent along loose to allow hinges to be in-verted
2 hinges included with each pipe gate up to 16'
All pipe gates larger than 16' get 3 hinges and 2 will be welded on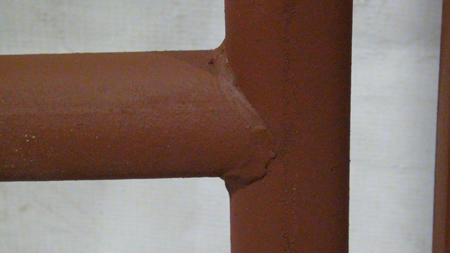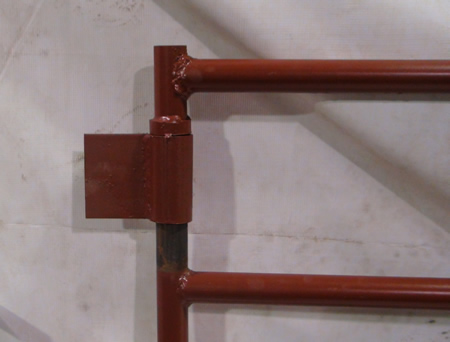 Weld on plate hinge 2
on each gate up to 16'
Gates larger than 16' get 3 hinges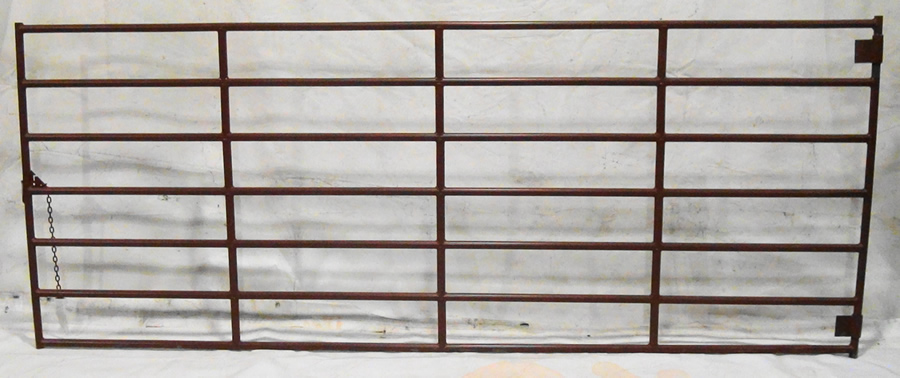 7 Bar 14' pipe gate with weld on plate hinges

6 Bar 10' pipe gate with wood hinge (bottom one is all that is welded unless special ordered)
All Thread wood hinges for going through
steel or wood posts.
3/4" shaft and pin size to handle the heaviest
gates out there.
Double nut and washer comes with every
hinge.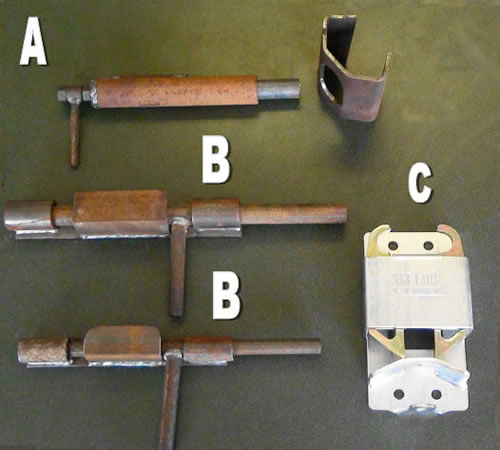 A) Spring loaded latch
B) Large Slide bolt latch 1" hot rolled rod
B) Small Slide bolt latch 5/8" hot rolled rod
C) Slam Latch

All latches can be bought separately or installed onto
any of the Corbin Steel heavy duty pipe gates.